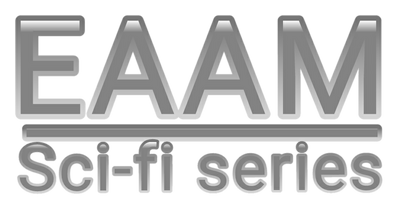 Welcome!
 Hello! My name is Justin Glowala .I'm the creator and owner of the Epic Awsome Alien Man (EAAM) Sci-fi series. Welcome to the EAAM Wiki where you'll be able learn everything from the smallest detail to the most critical information about the lore and characters. If you have any concerns about EAAM, please contact me on YouTube, Deviantart, Minds and my account here on fandom thank you and enjoy.
Epic Awesome Alien Man (EAAM) is created and owned by Justin Glowala. The series focuses on Epic Awesome Alien Man who is the commander of the 424th Kolin Battalion and the 236th kolin fleet. The Kolins are a highly advanced, intelligent and evolved species of space snails that is fighting a major war against what was once their closest allies the Obcy Wads. They are a friendly intelligent species of alien hornets that attack the Kolins for a rather mysterious reason. The main story focuses more EAAM's point of view, and shows the bloody Kolin-Obcy war, although in the EAAM EU (Expanded universe) which focuses on other aspects of the series such as other characters and locations. The EAAM series also focuses on many ethical issues such as should "cloning be allowed?" or "should A.I be given human rights?" and many more ethical questions. EAAM is best not read by younger viewers, because It contains graphic content such as the hellish and gory reality of war, zombie creating fungus, flesh eating diseases along with depictions of Genocide and mass killings this series isn't recommended for the faint of heart.
Introduction Video
Timeline
Current Products Being Developed
EAAM Character Encyclopedia
Commando Field Manual
Revamping the Wiki and old Deviantart art.
How To Join The EAAM Team
How To Join
EAAM Contributor Program (ECP)
Contacting Justin Glowala
Development Team
Creator:
Justin Glowala "Ocean man"
Authors:
Main: Justin Glowala "Ocean man"
Secondary: Jessica Burak
Moderators:
Justin Glowala "Ocean man", Filipp Malyshev "Yantzee"
Illustrators:
Justin Glowala "Ocean man", Rubi Sosa "TheAlleyrats", Eric Glowala "Taco Pants27"
Editors:
Justin Glowala "Ocean Man" , Eric Glowala"Taco Pants27" , Jessica Burak, Matt Henderson
Sponsors:
Justin Co, Jessica Glowala, Jolanta Burak, Maples Met School
Activity
Photos and videos are a great way to add visuals to your wiki. Find videos about your topic by exploring Fandom's Video Library.